Saint Oliver Pilgrimage to Ballybarrack
Each Year on the Second Sunday of July, Holy Redeemer Parish celebrate a Mass at ballybarrack shrine in honour of St. Oliver Plunkett. This proud tradition has been attended by many people throughout the years. How lucky are we to have a shrine of a saint in our parish. Something to be celebrated and adorned, we once again prepare to celebrate in 2015 to a Martyr who is much loved throughout the world.   What a privilege it truly is to celebrate Mass in the place were St. Oliver himself would have done over 300 years earlier at this shrine.
Fr. Paul Montague who celebrated the mass last year encouraged all those present to remember the great sacrifices that St. Oliver would have made in bringing the faith to these parts - at that time Ireland was a very different place; the Mass was outlawed, priests were scarce, even food, clothing and shelter were in short supply for Catholics.   Oliver was ultimately called to sacrifice his very life for the Gospel.  Fr. Paul said that while we may not be called to make that sacrifice today, God still asks us to be ready to do whatever we need to do, in order to bring God's grace, peace, forgiveness and love to those around us - in the words of the Gospel, to be 'light' to the world!
Fr. Montague said, we are all called; first, to be holy, and then to express that holiness in whatever time or place we find ourselves, using the talents and abilities with which we have been blessed - to spread the Gospel of Jesus Christ.  The Eucharist (The Mass) is Jesus' promise that we are not alone - that God is with us in this work, as he was with St. Oliver.
Concluding the Mass with a personal blessing of the Relic of St. Oliver Plunkett, Fr. Paul invited prayers for the strengthening of the vocation of marriage, for an increase in vocations to priesthood and the religiuous life, and for a fuller understanding of the vocation of the single life.  Prayers for parents and grandparents, for young people facing choices in life and for those who are facing difficult times were also offered. Prayer for peace and reconciliation was highlighted; by reciting the prayer of St. Oliver which has been promoted (by Tommy Burns, Drogheda) for over ten (10) years, and which is believed to have been instrumental in bringing about successes in the current political situation which the island of Ireland is enjoying.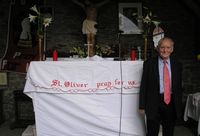 Fr. Paul thanked all those concerned with organising and participating in the Mass, and acknowledged the great work which Joe Sands (and the Sands family throughout the years) has done in preserving the Shrine.  We look forward to next year's Mass.
You are welcome to attend the Mass for 2015, on Sunday 12th July 2015 -at 7.30p.m.
To view more photographs of the day, click on the St. Oliver's Shrine link on the menu to the left.